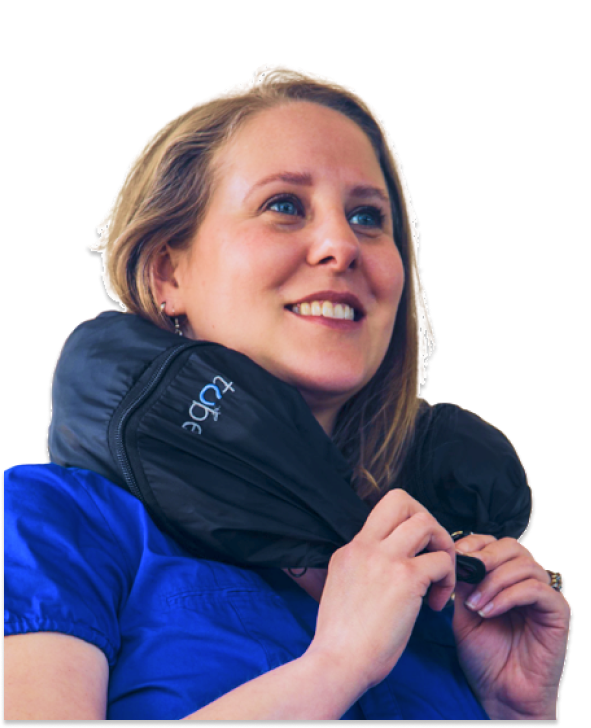 Tube

- The Travel Pillow You Stuff With Clothes
A winning combination of functionality, versatility, and convenience for travelers everywhere. The revolutionary Tube travel pillow is more than just a pillow. It's a practical solution that saves you money! 

So Many Reasons Why More Than 50,000
Happy Customers Rely on the Tube
Flies Through Security – No Questions Asked
Breeze past security checks hassle-free. As the Tube is designed to be a travel pillow!
It's Roomy and Holds More Than You Think
More space than you'd believe, packing convenience is taken to a whole new level.
Customized Neck and Back Support
Since you pack it yourself, you determine whether it is firm or soft.
Belts Around Your Waist and Sling It Over Your Shoulder
Secure fit, hands-free and the perfect fit for your personal comfort.
Compact, smart, and ready to go wherever you do – no extra bags needed.
Easily Attaches to Personal Items and Carry-Ons
A travel essential that sticks with you, keeping your comfort in check.
It's Versatubular! Perfect For All Occasions
For city and outdoor adventures, the Tube is perfect for hiking, biking, sightseeing and more…
So, What Makes The Tube Special?
Eliminate excess baggage fees
From city escapes to outdoor adventures, the Tube's got your back, always
It's especially handy when you reach your destination, but your luggage takes a detour
Works as a comfy pillow, and provides lumbar or neck support, when you stuff it with clothes
Travel Lighter & Save More Money
Comfortable travel pillow
No extra luggage fee when travelling
Vesartile to all occasions, travelling, hiking, riding etc.
Vesartile to all occasions.
Tubular Travel Pillow & Pillow Case
Hold up to 3 days worth of clothes and enjoy the comfort and support when wrapped around your neck
Extremely lightweight and there are a million ways to use your Tube – travel, hiking, dance classes & etc
Premium Quality & Durable
It's simple, we use the best material to produce high quality products that stand the test of time
Slim, nimble and easy to use! The Tube is designed for all kinds of occasions
Don't just take our word for it...
"This held 4 shirts, 2 long sleeves, 1 yoga pant, 6 socks, and 1 no underwire bra. Super helpful for my trip to Germany. I love that this also can fold into itself and zip up for easy storage."
"This not only made a comfortable and adjustable neck pillow, it provided increased packing space/weight. It worked perfectly for an international trip! Definitely recommend!!"
"I purchased this for a trip overseas – 9 hours on a plane. It allowed me to carry on extra "luggage" and was a very comfortable pillow. I was also able to hang it from the tray table to use as a foot rest."
"Best Travel Pillow EVER!!!!!!!!."
Upgrade Your Travel Game. Buy Your Tube Today!
Experience Comfort, Convenience, and Extra Storage Space. All at Once
And while you're at it, get one for a friend!
In 2009, Tubular Travel was born from a fantastic partnership between Paul and Donna Cooper Mellion, then husband and wife. Paul's job required extensive global travel, faced a common woe: his luggage lagged behind.
Seeking to pack better, he turned to Donna, his clever wife. A gifted seamstress, Donna had an idea – she'd craft a special case, like a sleeping bag's cozy home, to fit his jacket. She created 5 – 6 prototypes prior to arriving at the current product design.
And Voila! The rest is history…