Packing Your Tube is Easy!
Open the Zipper and pull out your Tube
Lay out your clothes and roll them together the long way.
Unzip your Tube at both ends, reach in and pull in your clothes past the zipper. There's plenty of room in each end cap. Try packing socks and a sweater at one end and a travel blanket at the other for easy access.  
Zip up the ends, clip them together or to your purse or other carry-on.
On board, wrap the Tube around your neck clipping a swivel hook to its opposite D-ring or use it for lumbar support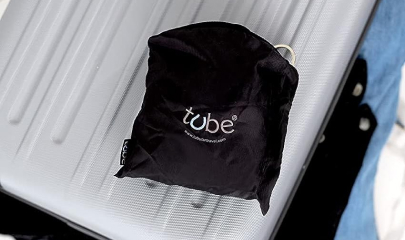 When empty, place your thumbs in each side of the pocket and roll it up like a pair of socks.
Let's Hear It From Others
"A Great Travel Companion"
"A Pretty Cool Travelling Gadget"
Don't just take our words for it
"This held 4 shirts, 2 long sleeves, 1 yoga pant, 6 socks, and 1 no underwire bra. Super helpful for my trip to Germany. I love that this also can fold into itself and zip up for easy storage."
"This not only made a comfortable and adjustable neck pillow, it provided increased packing space/weight. It worked perfectly for an international trip! Definitely recommend!!"
"I purchased this for a trip overseas – 9 hours on a plane. It allowed me to carry on extra "luggage" and was a very comfortable pillow. I was also able to hang it from the tray table to use as a foot rest."